Festival Camping, Camper Vans and Caravans
Camping is about 600 meters from the main festival site and is on the Sherston Town Football pitch on Knockdown Rd (note that is NOT the rec  – which is the day car park – it's a bit further on than that,
There are plenty of level pitches for tents and camper vans and good vehicle access.

If you want to camp or use a camper van/caravan/whatever each adult will need a separate camping ticket IN ADDITION to your festival ticket – you can buy them here. All money from the camping tickets goes to the football club.
Please don't try to camp on the rec(i.e. the main carpark) just follow the signs for camping and you will be sorted!
Note there are no power hook up on the site – if the footie club training lights are still working we'll put them on (but they rarely do so bring a torch!!!)  There is running water and there are loos in the changing rooms (there are even showers if you are that brave!!)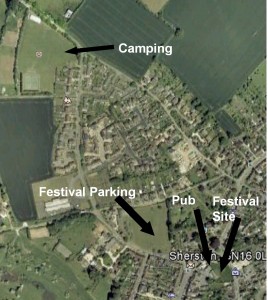 Tents can be pitched from mid day on Friday 14th June and need to be gone by 2pm on Sunday 16th.
Small plea…. this is a sports  field being lent to the festival for free  – there will be kids playing football on it after you have gone so PLEASE no fires and no glass.Please bag up all your crap and take it with you when you go and the planet will be a better place :)There is no camping on the main site – please don't try!
(Click on this image to see a bigger image)
Other Camping
The Holford Arms on the Westonbirt road offers commercial camping (like showers and toilets and everything!!) for £10 a night but it's a couple of miles form the festival site – a nice cycle ride though down some quite country lanes – contact Pete on 01454 238669
B&B
There isn't that much about to be honest – what there is is very nice, but there just isn't much of it…. try