After 2 years away from our original site in Sherston we are coming home for a "Baby Boondocks" festival in 2017.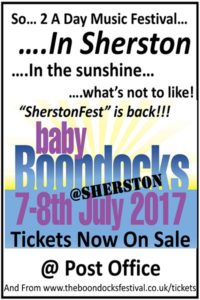 All the great stuff you have come to expect from The Boondocks Festival all wrapped up in a mini version for the Sherston site.
Its Friday 7th and Saturday 8th of July and tickets are now on sale here and in the post office stores in Sherston.
So – 2 day music festival, in the sunshine, in Sherston…. whats not to like?!!